I'm participating in an amazing cause and I need your support!
The generous will themselves be blessed, for they share their food with the poor.
Proverbs 4:9
Jesus calls all of us to service...
Did you know, every day, there is someone in desperate need of help?
I have witnessed a mother that can't send her children to school because she has no food for them.
I have seen families without safe, sanitary homes and with no means to earn a sustainable income.
I met disabled people in need of education.
We can change this. You can change this.
Hi my name is Kirk Guillory and I live in Iowa, Louisiana. A few years ago, I decided to give back to those in need. With the help of Food For The Poor and generous donors like you, we were able to complete the building of St. Peter Claver Village of Hope in Jinotega, Nicaragua. In 2016, my church raised money to build four homes in El Salvador. This year, our donations have built 10 homes in Bethany, Guyana.
Our new goal is to raise $50,000.00 to continue to assist with the needs of the poor in Guyana.
You can also follow our progress on Facebook.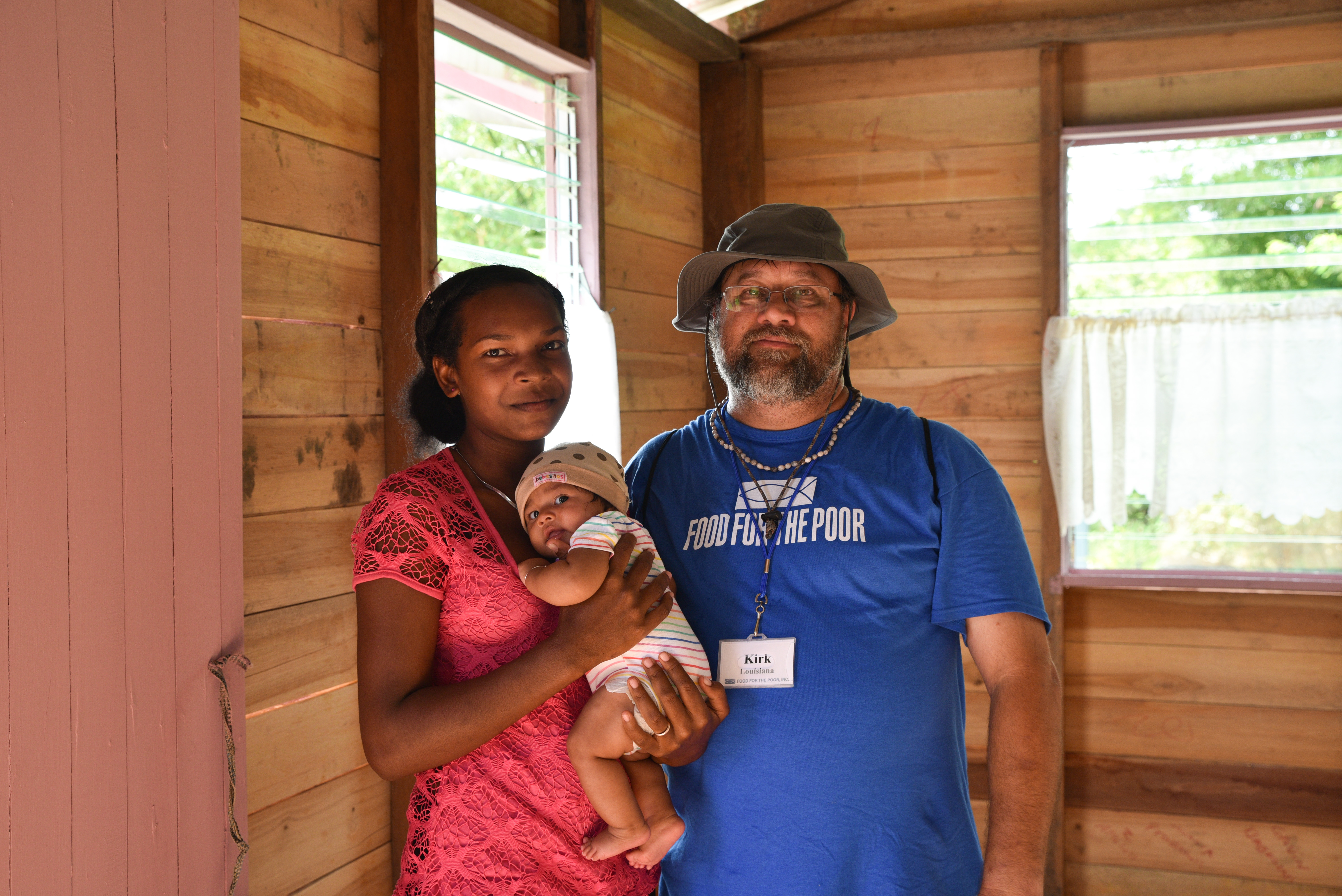 Families in Guyana need our help
With the help of the parishioners of St. Theodore and other generous donors, I have pledged to continue to provide funds to assist in the needs of the poor in Guyana. Our donations will not only be used to build homes, but to help with necessary improvements and equipment in health centers, schools, and orphanages as I was able to see this need first hand on our recent trip. We hope we can gain the support of more churches, organizations, groups, and others to meet our yearly goals and ongoing commitment to support the people of this country.
Bethany Village is a more than 100 year old Amerindian mission located in the Supenaam Creek, Region #2 on the Araburia River. There are approximately 420 residents (30% of which are below age 18) who sustain themselves mainly through logging and farming. To get to the village from Georgetown, you must travel to Parika and then either take a speedboat or ferry to Supenaam. From there, you have to take another boat to the village. Schooling in Bethany only provides education through sixth grade after which students have to travel to the Essequibo Coast daily to attend secondary school. Due to the cost of travel to the coast, many students drop out or do not attend secondary school. Unemployment has thus become an issue because of limited educational opportunities.
Guyana is a country located on the northern coast of South America. It is about the size of Great Britain with a population of 785,162. With 36% of its people living in poverty and 18% in extreme poverty, it is one of South America's poorest countries . Nearly half (46%) of all children under the age of 16 live in families that are in poverty. The name Guyana means Land Of Many Waters. It is known as the country of Six People: Africans, Amerindians, Chinese, East Indians, Europeans, and Portuguese.
We need your help to improve the quality of life for these desperate families in Guyana. Your donation will provide secure, double-unit housing, hygienic sanitation, and potable water supply. But most importantly, you are an answer to their relentless prayer for a safe place to call home. It will also address the lack of proper equipment in the health center that could significantly improve the ability to receive the most basic health care we often take for granted.
After experiencing poverty first hand in El Salvador and again in Guyana, I have committed to God to continue the mission of helping others in extreme poverty. Please help me reach this goal this year, by providing a donation to our fund. Remember any amount helps! If you can't give a donation, I understand, but please help by sharing this on your Facebook page or on other social media to spread awareness to others who may be able to help and support the poor. I will keep you informed each step of the way. You can revisit this page periodically for more information, and pictures of progress.
Thank you,
Kirk Guillory
Want to help? Please click the SUPPORT ME button at the top of this page now.
The process is fast, easy, and secure. I truly appreciate any support you can provide. It will benefit a great cause!
Can you sacrifice a fancy dinner, a fast food meal, an overpriced coffee, even a candy bar once a month? Can you commit to donate $25, $15, $5, $1 a month? ANY amount helps. The money we raise through this page will go directly towards providing housing and other needs for the poor in Guyana. And you will be able to check back and see the specific homes that your donations helped to build!
Help me reach my goal by sharing this page on Facebook, Instagram, and Twitter. Or, even better, send an e-mail to friends you think might be interested in contributing and include a link to my page!
Thanks so much for your generosity!
Together, we can make a difference!
Donating online is fast, easy, and totally secure. If you would prefer to send a check please print and complete this form and mail it to:
Food For The Poor Inc.
Attn: Champions
6401 Lyons Road
Coconut Creek, FL 33073
Write on the check's memo line SC 147858 to ensure proper tracking.